Calgary Stampeders aim to get back on track vs. Montreal Alouettes – GooPdf News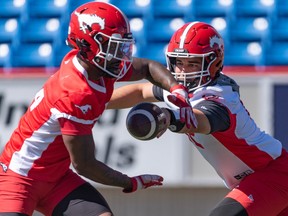 Article content
Between Sunday and Labour Day, the Calgary Stampeders are going to find out who they are.
Article content
The schedule makers have all but guaranteed that much.
Article content
Five games, five tough opponents.
It starts Sunday (5 p.m., TSN, QR Calgary) with the Alouettes in Montreal, a city where the Stampeders have traditionally struggled — although they haven't played there since 2019.
Then, it's a run of four games against the CFL's top three teams. There's the Toronto Argonauts on Aug. 4., the B.C. Lions on Aug. 12, the Winnipeg Blue Bombers on Aug. 18 and the Argos again on Aug. 25.
There might not be a team in the league with a tougher month than that this season.
So the Stamps really can't afford to drop Sunday's game with Alouettes. Falling to 2-5 before that treacherous August stretch? That has bad news written all over it.
After a heartbreaking overtime defeat to the Ottawa Redblacks last weekend, though, the Stampeders are chomping at the bit to get back at it.
Article content
"When you have a tough loss, I can't wait to play again, can't wait to coach again," said Stampeders GM/head coach Dave Dickenson. "It's long travel, it's the furthest we go east, but I feel like our guys are looking forward to getting back on the field, gelling, and coming together as a group."
That needs to happen soon. Immediately, really.
While the Stampeders have kept things close in basically every game they've played this season, getting over the finish line has been a challenge. Their record shows that.
The Alouettes are desperate, too, having come out of the gate firing on all cylinders and winning their first two games before dropping three in a row.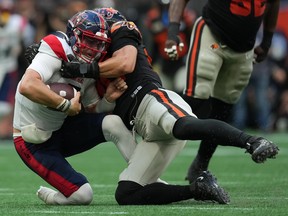 They're stingy on defence and can move the ball through the air and on the ground, although their most notable trait may be that they have given up more sacks than any other team in the CFL — 26 through five games.
Article content
The Stamps' defensive line is going to need to get in Cody Fajardo's face, and they've certainly proven capable of harassing passers in recent weeks. While the big story around McMahon Stadium this week was James Vaughters being added to the six-game injured list and the subsequent voided trade to bring in Ja'Gared Davis, there's still lots of pass-rushing talent at the Stamps' disposal.
"I feel like we're about to start cooking with hot grease," said defensive tackle Mike Rose. "Next man up, I believe in the guys in the room."
That belief is still there, despite the early season setbacks. The Stampeders are not a perfect team and they have a lot of improving to do, especially if they're going to survive the challenging month ahead.
Article content
"You just want a chance, you just want a chance to compete every single week," said quarterback Jake Maier. "There's plenty of football teams at every level where they show up to the stadium with no chance. That's not us. We have an opportunity to win every time we step on the field. Yeah, it stings (when you lose), but the next one's coming."
QUICK HITS
There's no getting around the fact that the Stampeders are banged up right now. The team has 13 players currently on the six-game injured list, with Vaughters and defensive backs Bailey Devine-Scott and Tae Daley getting added this week. Hopefully there are a few players coming off soon, including running back Ka'Deem Carey, but the injury situation is absolutely brutal … Sunday will see the season debut of Josh Coker at right tackle. Coker has been knocking on the door for more playing time for some time now and was set to replace Derek Dennis when the veteran broke his leg last season, only for an injury to end his season almost immediately once that opportunity presented itself. He's a guy a lot of people have been looking forward to seeing in action for a long, long time … Nick Taylor will make his Stamps debut at field corner, and Brad Muhammad's strange journey that saw him get cut at the end of training camp will now see him start at the field half-back spot … The defensive backfield really is a lot of mix-and-match, especially with Tre Roberson out with a head injury …. There were eight changes to the roster from last week's game against the Redblacks. That's a lot.
daustin@postmedia.com
www.twitter.com/DannyAustin_9