Mac DeMarco review – an atypical celebration of an atypical album
The last time I saw Mac DeMarco live he jammed a lit cigarette in his ear, climbed on top of an amp with his boxers bunched into his arse crack and lit his armpit hair on fire. That was a few years ago – before the pandemic, before DeMarco quit smoking, and before a solo road trip around the US and Canada would reconfigure his approach to writing and performing music.
The result was Five Easy Hot Dogs: 14 minimal yet addictive instrumental tracks written and recorded on the road, and announced just two weeks before its release in January. In that spirit, Mac's current tour is an atypical celebration of an atypical album.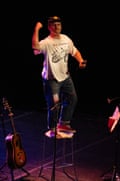 It's a show of two halves: a full run-through of Five Easy Hot Dogs, followed by another 90 minutes of deep cuts and fan favourites. Performing on a stool, MTV Unplugged style, the intimate setting lays bare Mac's strengths. His voice sounds almost crooner-like on love songs For the First Time and My Kind of Woman, while the stripped-back arrangement puts the onus on rhythm and banter. DeMarco makes up for the lack of singalongs during the first half by guiding the audience on a journey from song to song, place to place, through off the cuff anecdotes, character impressions and local tourist information – like Tom Waits if he had a show on Adult Swim. Before Crescent City, he identifies a change in temperament when you cross the border from California into Oregon ("more methamphetamine up there"); introducing Edmonton – the oil capital of Canada – he puts on a Daniel Plainview voice and addresses the dangers of fracking.
While the gig's format might seem experimental for an artist revered for live-fast tendencies and a sad clown persona, the result is refreshing and magnetic, proving he doesn't need the chaos of his earlier years to hold a room. He might be making dick jokes in a baseball cap, but he's easily one of the best old school entertainers we have.
#Mac #DeMarco #review #atypical #celebration #atypical #album #Mac #DeMarco