Okotoks Dawgs' Matt Wilkinson in rookie camp with Cleveland Guardians – GooPdf News
Former Okotoks Dawgs star aims to improve velocity of pitches in dream to reach major leagues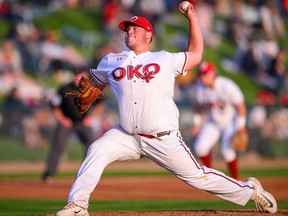 Article content
Matt Wilkinson isn't just trying to beat the heat these days in the desert.
Article content
The 20-year-old local baseball prospect is trying to turn up the heat in his quest to become a Major League Baseball player.
Article content
The longtime Okotoks Dawgs pitching star is hot on hopes of becoming a big-leaguer after being plucked by the Cleveland Guardians in the 10th round — 308th overall — of the 2023 MLB Draft a few weeks back.
"It's too hot here," said Wilkinson from the Guardians player development complex in Goodyear, Ariz. "Luckily, I've been at school down here for two years (in Coolidge, Ariz.), so I'm somewhat used to it. But the first couple of days are brutal — feels like you're getting punched in the face every time you leave your apartment.
"But this has been a dream of mine since I was a kid."
So the native of Ladner, B.C., — affectionately known as 'Tugboat' — is pressing on, eager to forge his way to glory in the game after hearing his name called in baseball's annual pick-em.
Article content
After physical and medical testing for the better part of the first week, the prospects at the club's rookie camp are now into the baseball side of things, each of them trying to find a path to the majors — the next step being either low 'A' or high 'A' teams in the Guardians system.
"All the draft picks are here," Wilkinson said. "We're just getting used to the pro ball. I'm still like new to it. but Cleveland is one of the better pitching development teams in the league. So I'm excited just to get to work with their development guys. Do whatever they can to make me better."
What the southpaw would really like to see is an uptick in the speed of his pitches.
Wilkinson and the Guardians want that to complement the rest of his repertoire.
Article content
"Locating the ball and putting it where I want is my strength," Wilkinson said. "But I think my velocity can get better. I know it definitely can get better and, hopefully, will. That's the one thing I'm focused on right now.
"I've been up to 93 miles per hour, but I sit anywhere from 88 to 91," continued the 6-foot-1 hurler. "And I'd love to sit 90 to 92 top of four (innings), top of five. I don't think 100 is humanly possible for my body. All those guys that throw 100 are specimens — like big, big guys. You know, if I can get there — I'd love to — but it's just not really where I'm reaching right now. I'm just taking it one step at a time."
Those steps have changed plenty for Tugboat in the last few months.
After three stellar summers with the Western Canadian Baseball League's Dawgs, he arrived in Okotoks this May to become the opening-day starter, fresh off an award-winning college season with the Central Arizona Vaqueros, with whom he was named 2023 National Junior Collegiate Athletic Association Division 1 Pitcher of the Year.
Article content
Then came a chance to join the Chatham Anglers of Massachusetts' Cape Cod Baseball League for a few months, during which he allowed no earned runs on just one hit and one walk in nine innings of work while striking out 10 batters.
But when Wilkinson became one of nine Canadians selected in the MLB Draft, his future changed radically.
He's now a pro, and in doing so has left behind the Anglers, the Dawgs and his two years of NCAA eligibility with the Arizona State Sun Devils, from whom he had earned a scholarship after his success in the JUCO ranks.
"What makes Matt a professional prospect?" asked Jeff Duda, head coach of the Okotoks Dawgs Academy and Washington Nationals associate scout. "There are two things that set him apart.
Article content
"One, he is an elite competitor and knows how to win. He has proven this at every single level he has played at. He just knows how to elevate and adapt his game to find a way to win.
"The other aspect is that Matt has élite fastball command coupled with high spin-rate that helps his fastball play above the 88-92 mph range. It's perceived more like a 93-95 mph by the hitter."
With the Dawgs, Wilkinson displayed that power, winning seven games and saving five others over parts of four seasons, while posting 121 strikeouts — against only 19 walks — an earned-run average slightly above 2.00 and a WHIP right around 1.00. He especially sparkled last year in guiding the Dawgs to the WCBL championship by tossing the final pitch to cap a campaign marked by a 3-1 record, four saves, a 1.69 ERA, a 1.09 WHIP and 10 strikeouts against only four walks.
Article content
During his time with the Vaqueros over two seasons, Tugboat appeared in 35 games, starting 17 of them and posting a 15-4 record, two saves, a 1.38 ERA and a whopping 221 strikeouts.
"He has two above-average secondary pitches with his slider and change-up," Duda said. "He has the ability to throw any pitch in any count.
"I genuinely believe that Matt will pitch his way to the big leagues."
That's the plan.
And he's got some advice in his back pocket from Dawgs coaches Lou Pote and Joe Sergent — both former major leaguers themselves.
"My ears are open to listen for everything," added Wilkinson. "You know, there's always something you can get better at. These coaches in these major league organizations are here for a reason, because they're good coaches. So you just listen to what their advice is. It's just learning. I've still got so much to learn about this game, and I'm excited to learn about it.
Article content
"Sky's the limit from here."
SHORT HOPS
The Dawgs (36-14) themselves wrapped up a four-game home-stand at Seaman Stadium with Monday's host of the Lethbridge Bulls (29-22) in WCBL action, as they went into the night just one game up on the second-place Sylvan Lake Gulls (35-15) for top spot in the West Division … They took only one game off the visiting Fort McMurray Giants in the previous three home games Thursday, Friday and Saturday, winning the first tilt of the series 8-5 … It's a busy final week of the WCBL regular season for the Dawgs — with away games Tuesday through Friday — and the capper Saturday night against the Bulls at Seaman Stadium (7:05 p.m.) … The WCBL playoffs then begin next Monday.
tsaelhof@postmedia.com