Womad review – more music festivals need this vitality, daring and breadth
In a crowded festival marketplace that nevertheless often cleaves to a relatively timid and tight crop of British, European and American artists, Womad provides a vital yearly reminder of the breadth of the planet's music. There are artists from more than 40 countries here, ranging from quirky Balkan folk to global hip-hop and African bands, with Mokoomba leading the latter charge.
Starting out in Victoria Falls, Zimbabwe, they have evolved into fine, rousing musicians who take their influences from across the continent. Opening with a bluesy guitar solo from Trustworth Samende, they evoked the glory days of Zimbabwean music with echoes of the Bhundu Boys and Oliver Mtukudzi mixed in with a dash of Congolese soukous, before singer Mathias Muzaza introduced western African styles. Then they change direction again with glorious six-part acapella harmony songs that sounded like a gutsy version of South Africa's Ladysmith Black Mambazo, complete with dance routines. A magnificent set, though it was unfortunate that Nyansola, a plea for rain, proved effective.
The festival ends with an established African veteran, Femi Kuti. Now in his 60s, the oldest son of Nigerian Afrobeat legend Fela Kuti echoes the political anger of his father – he starts with Truth Don Die, from the 90s, and moves on to the recent You Can't Fight Corruption With Corruption – but does so while encouraging a party atmosphere. Leading a slick, tight band, his musicianship shines as he switches from vocals to keyboards and (best of all) extended saxophone solos. Further proof that Afrobeat is still a potent force comes from Dele Sosimi, who played keyboards for both Fela and Femi before going solo. Commanding the main stage on sunny Saturday, he proves he's a distinctive singer-songwriter with Too Much Information.
From north Africa, there is an impressively varied set from Souad Massi, who was forced to flee Algeria for France to develop her exquisite fusion of chaabi, chanson, flamenco and country. Produced by Justin Adams, her latest album, Sequana, adds energy and anger to the mix, and Adams joins her band to spur them on with his furious electric guitar work on the pained treatment in Arabic of Hurt, the Nine Inch Nails song made famous by Johnny Cash, and Twam, a pounding study of schizophrenia. A Womad veteran, who played here with Juldeh Camara and Robert Plant, Justin makes three other appearances at this year's festival, including a virtuoso set with violin and frame drum player Mauro Durante, from the Italian pizzica exponents CGS. Fusing Italian songs with stomping blues, they include an emotional tribute to Sinéad O'Connor, segueing from Still Moving to Visions of You, which Justin recorded with Sinéad and Jah Wobble. He's an increasingly remarkable guitarist.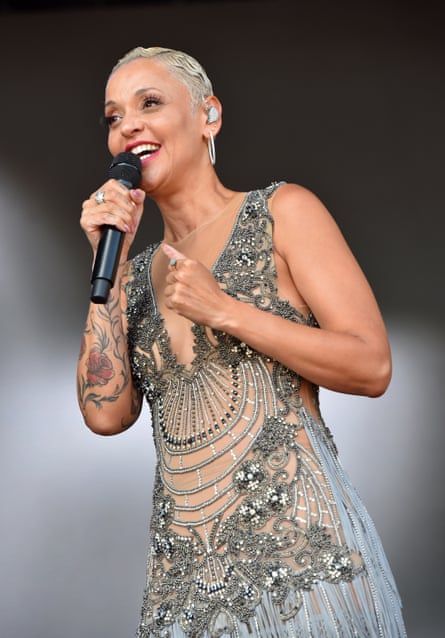 Elsewhere, the world's best-known fado exponent Mariza stressed her African roots, introducing a song from Cape Verde with a reminder that her mother was from Mozambique. There is another elegant, gently powerful set from Susana Baca. Now 79, the heroine ofAfro-Peruvian music (and former minister of culture) is still a graceful, commanding performer and elegant dancer. Backed by a cool, jazz-edged guitar band, she switches between salsa and songs demanding social justice.
Womad's hip-hop is equally political. Emicida showed why he has become a major Brazilian star with an eclectic set switching between cool, sometimes crooned bossa and samba to furious rap passages. His aim is to stress the importance of Black musicians in Brazil, but also ends with a burst of Pink Floyd. Ana Tijoux, a major star in Chile, is equally impressive at both singing and rapping, and also appears with 47Soul and the Palestinian rap heroine Shadia Mansour on Border Ctrl, a song linking the problems of Palestine and Mexico. Life isn't easy for 47Soul, with two members living in Palestine and two in London, but they proved to be the most exciting hip-hop band of the festival with their blend of angry but thoughtful lyrics mixed with the dabke dance music of the Levant.
There is also room for the quirky and unexpected. Puuluup are an elegantly dressed male duo from Estonia with a gloriously deadpan sense of humour playing the talharpa bowed lyre treated with loops, creating delightfully slinky songs about "agriculture and cross-country skiing". A wet Sunday evening is also enlivened by Kuunatic, a female Tokyo trio with painted faces, who play drums, pounding bass, flute and keys that sound like gongs – as if a heavy metal band had invaded a Japanese temple. Another reminder of Womad's refreshingly boundless remit.